What is Revived by His Word?
Historically, the Seventh-day Adventist Church has founded its existence in the Bible. Adventists are a Bible-based, Bible-believing, Bible-reading people. A new Seventh-day Adventist world church initiative titled "Revived by His Word," coordinated by the Revival and Reformation Committee, is aimed at strengthening the spiritual experience of each church member.

"My soul clings to the dust; revive me according to your Word." (Psalm 119:25)

"Having been born again, not of corruptible seed but incorruptible through the word of God which lives and abides forever." (1Peter 1:23)

"And now brethren, I commend you to God, and to the word of His grace which is able to build you up and give you an inheritance among all those who are sanctified." (Acts 20:32)
The Initiative Summarized


Church members are encouraged to read or listen to one chapter of the Bible each day beginning April 17, 2012, the first day of Spring Meeting.

The reading plan begins with world church President Ted Wilson joining the division presidents in reading Genesis 1 responsively. The presidents will conclude the initiative by reading Revelation 22 during the 2015 General Conference Session in San Antonio, Texas.

During the 1,171 days from Spring Meeting 2012 through the beginning of the General Conference Session on July 2, 2015, participants will cover the 1,189 chapters in the Bible. By reading one chapter each day and two chapters during the General Conference Session, millions of participating members will complete their journey through the Bible. An online component, featured on the Revival and Reformation website and sponsored by the world church's Ministerial Association, allows participants to share devotional thoughts.
Before you begin reading the song Ancient Word is really beautiful to sing, check out this version on youtube. Ancient Word by Michael W. Smith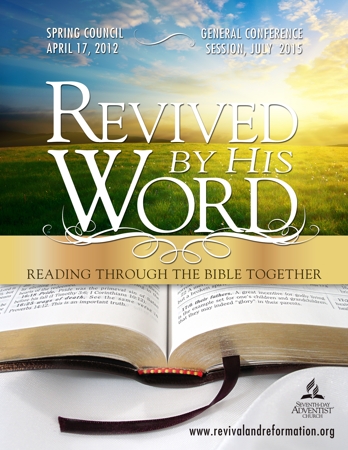 Click on the picture to download a copy of the Bible reading guide
from April 17 - December 31 2012
and
January 1 - December 31, 2013 [Newly Added]

This is a bold step in the right direction by the world Church body and also by our local congergation in Carenage. We look forward to reading the word of God together on a regular basis. Why not join us and invite a friend to do the same as the Word is read every day.
You can sign-up and get more information from the official website http://www.revivedbyhisword.org
We began our countdown March 28 2012
WE BEGAN READIN ON APRIL 17, 2012 !!!
We are reading Psalm now...